What does it mean to be a woman in Malaysia?
9 WOMEN. 9 STORIES.
9 dance artists from South East Asia will use their specialized dance forms from Malaysian Arts, Heritage and Culture to Contemporary and Modern to express and explore a topic, issue, story, experience, personal feeling, person or journey of being a woman today.
For a woman that demands respect and not to be treated as a mere physical sexual object to undying love and loyalty to a promiscuous man. For women who struggle and succeed in the corporate world to the ancient Javanese tale of married men betrothed to the Goddess of the Sea. Watch 9 stories unfold in this one-day special dance program.
1 choreographer will be selected to create the Opening Work for the production.
1 tribute dedicated to a prominent senior female dance artist in the dance industry will be celebrated.
+ VIEW OUR:
SPECIAL DANCE TRIBUTE SECTION 2016

MINI DANCE PHOTOGRAPHY EXHIBITION BY CHEN KIMMUN, EDZWAN HAFIDZ & KELVIN CHAN FOR CHARITY
+ SIGN UP FOR:
OUR MALAYSIAN HERITAGE DANCE MASTERCLASSES & WORKSHOPS BY THE BEAUTIFUL DANCE ARTISTS
+ GET YOUR GOODIE BAGS!
THE DANCE ARTISTS/CHOREOGRAPHERS OF 2016.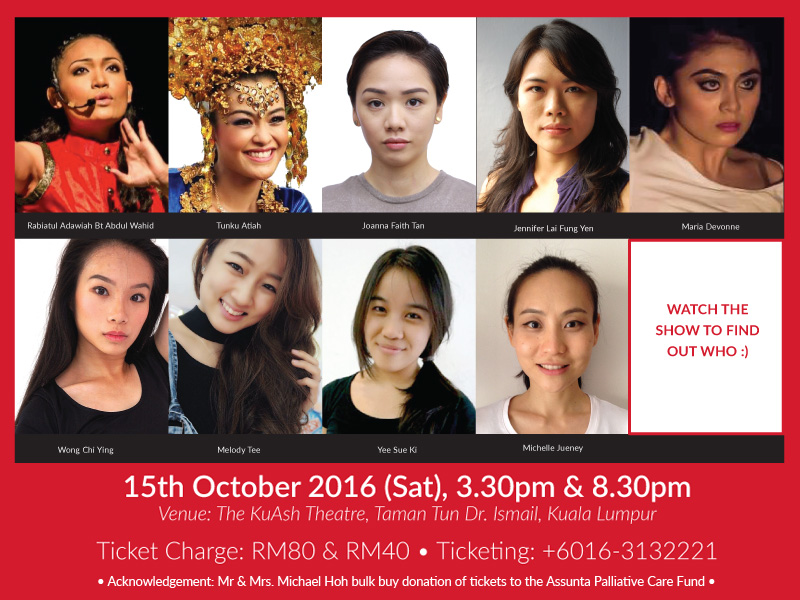 Joanna Faith Tan

 is an independent dance artist, dance educator, and certified BASIPilates instructor from Kuala Lumpur, Malaysia, who graduated cum laude with a Bachelor of Arts from Belhaven University (USA). She was a member of Ad Deum II Dance Company (USA), and has collaborated with Nibroll Dance Company (Japan), PGK Dance Project (USA), Remnant Dance Theatre (Australia), San Diego Dance Theater, and somebodies dance theater (USA). As a dance educator, she has taught for Annunciation Orthodox School Houston (USA), HELP International School, PGK Dance Project's Ascend program (USA), Project Dance (USA), River Oaks School of Dancing (USA) and Youth With A Mission (Hong Kong). She is currently pursuing a Master of Fine Arts in Dance at Hollins University (USA) in association with The Dresden Frankfurt Dance Company, The University of Music and Performing Arts Frankfurt, and Künstlerhaus Mousonturm Frankfurt (Germany). Growing up in a few countries, her fascination with new places and spaces has inspired her boundless pursuit of dance and choreography.
Contact: [email protected]
Rabiatul Adawiah Bt Abdul Wahid

 also known as Ruby was active in competitions and performances during her school days. Ruby has a Diploma and Bachelor of Dance (Performance) majoring in the Malay martial arts form of silat from ASWARA and was selected to be apart of the Aswara Dance Company. Ruby is also considered as one of the brightest talents in the traditional theatre form of Makyung, Bangsawan, Randai and Mekmulung where her ability to act and sing is utilized. She has worked professionally in musical theatre such as Ibu Zain, Tun Abdul Razak, Uda dan Dara and Cuci the Musical. Ruby has performed under the Temple of Fine Art's 'Swan Festival of Light', Asia Dance Company in Seoul, Korea and at the World Crossover in Yogyakarta, Indonesia as well as Japan, Singapore, Phillipines and Thailand. She was also selected for the ASEAN-Japan Dance Project in 2013 and recently won the silver medal in Kejuaraan Silat Seni Asli Kebangsaan dan Jemputan competition. Ruby has taught at Permata Seni under the Department of Arts and Culture.
Contact:[email protected]
Maria Devonne Escobia

 from Kota Kinabalu, Sabah started dancing when she was 16 years old as a hip hop dancer taking part in dance battles. After her SPM, she pursued her Diploma in Performance and her Degree in Choreography and was selected to be apart of Aswara Dance Company. Maria's recent works as a choreographer include Umbrella, Bewilder, and Between Ears Not Legs. In 2014, Maria had won the Gold Medal in Andong Mask Festival, South Korea and was nominated as Best Featured dancer in Mohd Yunus Ismail's choreography "when they ate the apple" at the Boh Cameronian Awards. Maria has participated in Jamu, Gelombang Baru, Tapestry, Short & Sweet, Main Zapin and Tari. She has worked with choreographers such as Naim Syahrazah in 'Reborn', Mohd Fauzi in Pitsop, and also Joseph Gonzales's production 'Becoming King.' Her recent experience was dancing in Release 4.0 for Nadhirah Razid's 'Madu'.
Contact:[email protected]
2016 CHOSEN CHOREOGRAPHER FOR OPENING GROUP WORK.
Melody Tee

 from Kuala Lumpur is a passionate graduate from Lasalle College of the Arts, Singapore with a Diploma in Dance. She has performed at the San Francisco "Walking Dance Festival", "Dubai Performing Arts Festival " under Maya Dance Theatre Company, Singapore and the "Sri Lanka International Performing Arts Festival " as an independent guest performer and in 'Anwesha-The Quest', which toured Indonesia, Malaysia and Singapore. In 2013, she had received the "Festival Director's Award in Short and Sweet Dance Competition. Melody Tee has also been awarded the gold medal in Group category (GPDC) and silver medal in individual dance category at the "Andong Maskdance Featival 2014", South Korea. Her other credits include 'Xin', her work that was featured in Tari 2014, Aswara, a site specific performance with Selipar Dance Troupe for 'Dancing in Place', Rimbun Dahan, 'A Wanderer in Berlin' by Jack Kek, 'Tepak Tari for Divercity, D'Motion Festival by DPac in 2015.
Contact: [email protected]
Yee Sue Ki

 from Penang is currently pursuing her Bachelor of Dance (Hons) at Aswara. She has been involved in various projects and performances under Ombak-Ombak Arts Studio, Arts Ed., PenangPAC, Georgetown Festival, Penang DanceMakers, Jamu, Short & Sweet, Dancing in Place, Euphoria Penang Dance Ensemble and many more. Internationally, she has performed under Nibroll (Japan), Maya Dance Theatre (Singapore), and has collaborated with Landscape Theatre (China) for various programs and international festivals. Her other involvements include community‐engaging projects under Aida Redza, Arts Ed and WCC.
Contact: [email protected]
Wong Chi Ying

 is a talented and skilled dance artist who trained in Ballet at Victoria Dance Arts, Kajang. Chi Ying is currently studying her Bachelor of Dance (Hons) majoring in performance at ASWARA and is a member of the Yayasan Sime Darby Project. She has been involved in various productions of the Faculty of Dance such as Gelombang Baru, JAMU, Tapestry, 3 Faces and Seru. Besides that, she is active as a performer in Short+Sweet Dance Competitions. She has participated at the Andong Maskdance Festival in South Korea and has recently been awarded New Best Talent in China-Asean Theatre Week in Nanning, China, 2014. Despite all her doubts, she still chose dance as her career and decided to pursue her dream as a performer. As a dancer, she loves to explore human movements and body figures.
Contact: [email protected]
Jennifer Lai Fung Yen

 began her dance journey with Ms. Mew Chang Tsing, learning contemporary dance and improvisation under her tutelage, with her first performance at the Rivergrass Dance production, Pebbles 5 in 2008. She has participated in Dancing In Place 2009 by Rimbun Dahan and Short+Sweet Malaysia held at KLPAC. Jennifer is currently a member of Han Fong Dance Ensemble, honing her skills in Chinese dance. A fairly newcomer, Jennifer also recently participated in the Dance for Parkinson's Disease workshop to learn to connect dance with more people.
Contact: [email protected]
Tunku Kurshiah , fondly known as Atiah, was born and raised in Johor Bahru, Malaysia. Atiah started dancing at the age of 3 at the Mangkunegaran Palace, Solo city, Indonesia. She then took up Ballet at the age of 8 completing her RAD examinations. Her role model was her late uncle GPH Herwasto whose love for dance inspired her to pursue dance professionally. A graduate from LASALLE College of the Arts Singapore, Atiah's love and versatility for Contemporary dance flourished when she has worked with various choreographers.
Contact: [email protected]
THE DIRECTOR
Michelle Jueney

 is an independent dance artist and the movement director of The KLMovement from Kuala Lumpur, Malaysia. Michelle's dance forte is in Odissi Indian Classical Dance from Sutra Dance Theatre. Michelle is the first and only nominated Malaysian to be apart of Counceil International de la Danseuse UNESCO. Michelle also finished her Ballet, ISTD examinations and loves Contemporary dance. Michelle has performed all over the world including Carnegie Hall and The United Nations, NY, participated in international festivals, tours, produced shows, worked with musicians and numerous local and international artists.
For full biodata, please see The Director. Contact: [email protected]
1 TRIBUTE
To be revealed.
Watch the show to find out who our 1st tribute will be 🙂
Objective: 
To launch THE KLMOVEMENT 1st ALL-WOMAN DANCE PRODUCTION.
To provide a platform for female artists of Malaysia to showcase themselves as a choreographer and/or dance artist in their careers.
To help the female dance artists in Malaysia in developing themselves in an artistic and professional theatre presentation, while giving them a leadership and positive challenge in a full-female dance production.
To promote, and give exposure and publicity to the female dance artists in Malaysia whilst preserving our rich arts, culture and heritage.
To be a positive 'Influencer' to other women to develop themselves, live and eat healthily, take up a sport, dance lessons, gym workout, or an activity that promotes health and better living. To do something for yourself everyday for 10 minutes. A healthy and happy woman = A healthy and happy family and career.
To entertain, and bring women, men, family, friends, and the masses for a good time at the theatre, while promoting and encouraging the appreciation of the artistic arts and especially our Malaysian heritage and culture.
To increase the value of female dance artists in Malaysia as well as the males as part of this bigger idea is the 'Sponsor An Artist' Fund further explained under 'The KLMovement Fund' in order for a retirement fund plan for artists who do not have this privilege in society as yet as we do not have EPF.
To promote, preserve, practice, and celebrate our culture and artistry in Malaysia as Malaysians.
We want women to look great and feel great for themselves! 🙂
Sponsor A Child – To help develop an education fund for the underprivileged children who are orphans, with single parents or parents earning under RM1000.
Sponsor An Artist – To help create a fund for artists returement/old age, medical bills, dance project/travel.
Please refer points 10. & 11. under The KLMovement Fund. Thank you.